Mee Memorial launches virtual ER visit system
Category: News
Posted On:
Written By:

Mee Memorial Healthcare System
TELEMEDICINE HELPS ANSWER CONCERNS MORE QUICKLY
KING CITY — Mee Memorial Healthcare System has launched a new virtual front door program, providing the ability to have an ER visit online.
The new system, which began May 18, integrates virtual and physical emergency care to allow Mee Memorial to better meet increasing demands of the Covid-19 pandemic by treating patients from the safety of their home.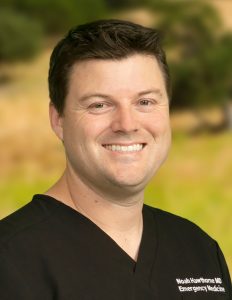 "Telemedicine has a unique place within the healthcare system where there are certain benefits, such as ease of ability to connect with a physician rapidly, or if you're in a more rural or isolated environment you can connect a lot more quickly," said Dr. Noah Hawthorne, medical director of the Emergency Department at Mee Memorial Hospital in King City.
Hawthorne said using the system is as easy as visiting meememorial.com and clicking on the top banner to start a virtual ER visit. There, a patient enters their name and in a few minutes they will appear on a tracking board. With any internet-enabled device, patients can complete a short online chat with a virtual medical assistant and then meet with an ER clinician who conducts a video evaluation. Having video is essential to the process.
"In order to have an actual medical encounter, the government requires that you do a face-to-face video encounter, and that's what we've implemented," Hawthorne said. "All you need to do is have a camera associated with your device. We have a camera on the physician workstation as well so it's like a FaceTime, Skype or Zoom call."
Some patients may be treated entirely from home, while others will be directed to the emergency room or referred to a local urgent care or primary care clinic.
"There are limitations," Hawthorne said. "You're not in front of the person, so the physical exam is limited and you also don't get vital signs."
That said, he noted a key advantage to the system is the ability to escalate care if necessary. If an in-person ER visit is necessary, it is treated as one continuous visit. While the patient heads to the hospital, the ER staff can prepare for the patient's arrival and order any needed tests in advance.
A key advantage over other virtual healthcare services, such as telehealth, is that patients visit their local ER doctors and providers, not a remote provider. Providers can immediately access MMHS medical records to discuss the patient's situation over a video call as well as coordinate with other doctors and caregivers.
In addition, providers are familiar with the community and available resources that can aid recovery. Patient records already exist in the system and care providers don't lose context for a patient's medical needs during the process, which otherwise might not have been present through other fragmented systems.
"Emergencies can feel chaotic. We want it to be simple to find help," said Mee Memorial Healthcare System CEO Rena Salamacha. "This new service allows patients to quickly talk to trained ER doctors who can help them choose the right setting for their care."
"It's fantastic for general advice and more simple complaints," Hawthorne added. "It's also exceptionally powerful for patient follow-up."
Patients can sign up for such options as having follow-up text messages about symptoms or medication.
"It's a chance to get face to face and resolve some of these issues and make sure that people are actually getting care and follow-up we were expecting they would," Hawthorne said. "There's always a lot of misunderstandings between a patient and a physician in terms of what constitutes an emergency, so for any doubts, a quick conversation can usually help to assess these things."
Regarding simple complaints, Hawthorne said being able to answer patient questions has been a breakthrough, as the ER typically receives five to 10 calls with medical questions per day.
"We get phone calls all the time into the ER, people asking for advice," he said. "We were never able to give advice over the phone before, but this does allow us to integrate that into the system and have a patient-physician encounter that allows us to give advice."
Hawthorne said the past year of pandemic meant a rise in telemedicine and the ability to see the flaws in existing systems in order to improve upon and create better systems.
A spin-off of the nonprofit research organization SRI International, Decoded Health, developed the technology in partnership with Vituity, a physician-owned, acute care solutions provider with more than 300 practice locations nationwide.